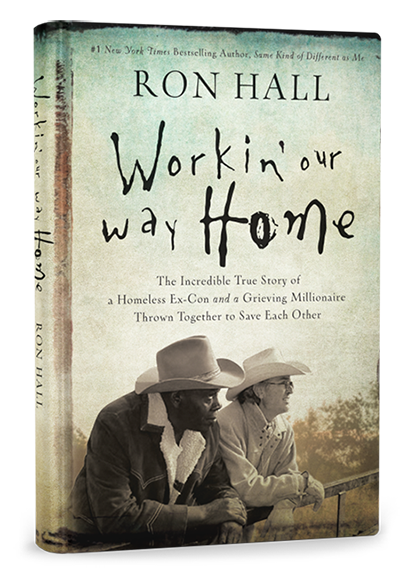 GRIPPING, SOMETIMES HILARIOUS, BUT ALWAYS INSPIRING.
"I saw his face." Deborah Hall's words launched the destiny of two men from very different worlds. Ron Hall was an international art dealer with upscale tastes; Denver Moore was a homeless drifter with a dangerous past. Millions have read about their unlikely bond through their first book, Same Kind of Different as Me-a #1 New York Times bestseller and now a major motion picture.
Workin' Our Way Home is the incredible true story of the ten years Ron and Denver lived together after Miss Debbie's death. This memoir of their heartwarming friendship is written in both Ron's and Denver's unique voices. Inspiring, redemptive, and often hilarious adventures include:
The challenges of converting a homeless streetwise schizophrenic into a mansion dwelling artist and public speaker.
Action packed near-death experiences for both Ron and Denver.

Inspiring Governors and the President in trips to State Houses and the White House.

Tackling racism head-on and winning the battle.

Follow the path of an illiterate man who became the first New York Times bestselling author who could not read and write when he wrote his book.

The ultimate odd couple traveling all across America speaking to thousands and raising millions to change the way people look at homelessness.

With both wit and wisdom, these pages reveal God's plan lived out through these men and those closest to them, including their passion to fulfill Debbie's dream of easing the pain and humiliation associated with homelessness, poverty, and inequality.
Mark P. Fisher of Inspiring Growth chats with NY TImes best selling author and international art dealer Ron Hall.
Ron tells just one of many embarrassingly funny stories from Workin' Our Way when Ron and homeless drifter Denver Moore were invited to the White House.